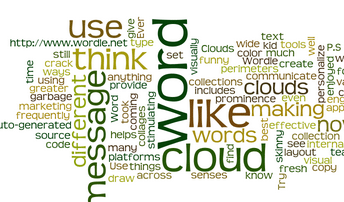 Ever wonder about the collections of words that you now see across a wide variety of platforms? I have and took some time to crack the code and I like them even more now what I know what they are about. 
Here's the skinny…
What
A word cloud is a collection of words that is auto-generated from copy that you provide. The clouds give greater prominence to word that appears more frequently in the source text.
How
There are different tools that you can use to create a word cloud. I like Wordle, which can be found at http://www.wordle.net. You can set visual perimeters for your cloud, such as type of font, layout, and color to personalize to best communicate your message.
Use
Try using a word cloud in a marketing message or internal message to your team. I think you'll find that word clouds can be an effective way of engagement.
P.S. I enjoyed making collages as a kid and I have to say, years later I still like making them. I use to think it was because I didn't like to draw and couldn't do it for well and now I know there's more to it. There is so much garbage coming out us in so many different ways, that anything fresh and visually stimulating or includes our other senses, helps to break through the clutter.
Check 'em out – I think you'll like 'em!